Meet Hickory Chiropractor, Dr. Wes Cardwell
"For me, chiropractic has always been about health and fitness."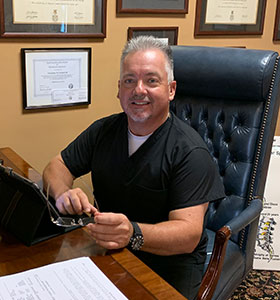 "I've always been a great athlete. I have a mesomorphic body type, so I'm naturally muscular. As a result, I participated in athletics all through school and began going to the chiropractor as a teenager. Athletics led to my interest in health and fitness, which led to my involvement with bodybuilding."
Working My Way Through College
"I enjoyed working out and there wasn't a gym in Lenoir at the time, so I opened one when I was 18 years old. During the day I went to college and studied biological sciences, and after class I was at the gym-training people."
I continued receiving chiropractic care while I was in college. For me, it has always been about health and fitness.
Chiropractic Education
After completing his undergraduate degree, Dr. Cardwell went to Life University of Chiropractic in Marietta, Georgia. "I came back to Hickory after graduation and have been practicing here for over two decades."
In addition to his chiropractic degree, he also has two-year diplomates in Acupuncture, Meridian Therapy and Applied Kinesiology.
My Life Outside the Practice
"I'm a retired professional bodybuilder who medaled in power lifting. I've enjoyed being a personal trainer since 1996 and am licensed to do so in four states through the National Association of Sports Medicine."
"When I'm not in the office or at the gym, chances are that I'm on the golf course. On the weekends, my wife, Cary Beth, and I enjoy riding the Harley up to our cabin in Boone."
To meet Dr. Cardwell in person, schedule an appointment today. (828) 323-1177
Discover the Lasting Purpose of Life Through Natural Healing with Dr. Wes Cardwell.